The Society of the Mines Royal used German specialists to reintroduce copper mining and smelting technology into Britain between the 1560s and 1580s. The "Melting House" at Neath, South Wales was completed in 1584.
What became known as the Welsh Process of extracting and refining copper was long, costly and tedious when compared with modern technology, but it remained unchallenged until the 1850s. In that year considerable improvements in the smelters were announced at the Great Exhibition, but it was not until Bessemer's invention of the blast furnace, together with the employment of large reverberatory furnaces that output improved.
One of the developments of the 19th century was the use of a single large chimney to provide draft for a number of furnaces. The traditional smelting halls had numerous chimneys, one for each furnace or small group of furnaces, while the large chimney stacks which are associated with smelter sites in Australia only became noted from the 1830s and 1840s in South Wales.
Because of the secretive nature of the industry, it is extremely rare that full descriptions of the technology were written down. The descriptions of the 31 furnaces at Amlwch in Anglesey in 1797 and the 20 remaining in 1800 are therefore extremely valuable as a historical resource.
Up to nine stages have been identified in the copper smelting process from various historical texts. In 1800 Lentin described the eight stage process used in Anglesey, North Wales. It included roasting, followed by several stages of smelting or calcining before final refining. The process was varied to treat more intractable types of ore in a nine stage process by 1847.
In 1861, Ure describes the processes used at Swansea. They were similar to those used at Anglesey by 1847. Ure indicates that a number of the stages of smelting could be omitted and it is this streamlined six stage process that was used at Cadia in 1861.
By 1908 at Cadia a single stage process was used before the semi-refined matte or regulus was transported for final refinement at Newcastle, New South Wales.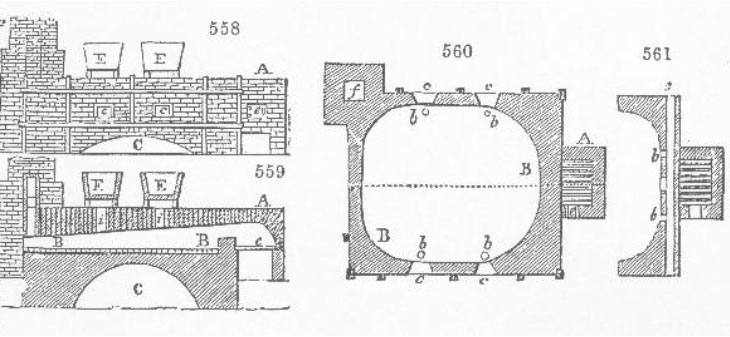 A calcining furnace, typical of those used at Swansea, South Wales, c.1861 (Ure's Dictionary of Arts, Manufacture and Mines. London. 1861: 822).